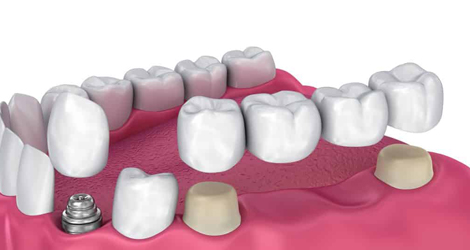 If you are planning to have a dental crown or bridge fixed in the mouth, Langham Dental is here for you. A crown is a form of dental restoration cemented in place to fully encase the entire visible portion of a tooth. This procedure is perfect for protecting teeth that are cracked, broken, or if there is insufficient tooth structure remaining to place a filling.
Before placing a dental crown, there must be an adequate foundation to support it. Our team of registered dentists will prepare the tooth to ensure its shape and structure is ideal for crown placement. If you have multiple teeth missing, crowns can be used to support a dental bridge. Types of crowns available are:
Full Metal Crowns
Full metal crowns are usually used on teeth where utmost strength is required. They can be made from different materials, but is usually either cast gold alloy or milled titanium.
Non-Metal Crowns
Non-metal crowns have a superior appearance compared to the conventional ones. They are ideal for use on front teeth and provide the look and feel as that of natural teeth.
What is a Dental Bridge?
A dental bridge extends across an area that has no teeth and is typically made up of an artificial tooth fused between 2 crowns. The bridge is held firmly in place by your own teeth on each side of the missing one(s) or by dental implants. A bridge is permanent and cannot be removed.
During a consultation, our team will determine the most appropriate procedure depending on your health and oral hygiene. Please contact the office for more information!
Contact Us To Schedule An Appointment!