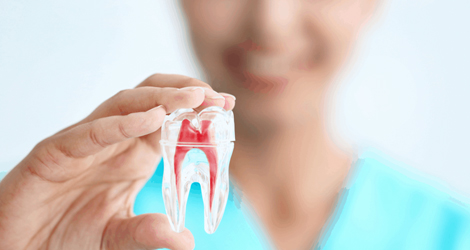 Root canal treatment, also referred to as endodontic therapy, is an effective and safe treatment for teeth whose pulp has become inflamed or infected. It can also be required in other situations to help save and restore a tooth.
Root canal treatment is the process of removing infected or injured tissue (pulp) from inside the crown and roots of a tooth. Once cleaned, the canal is disinfected, shaped, filled and sealed with a natural rubber-like material called gutta-percha.
Why Opt For A Root Canal Therapy?
It is helpful in relieving toothache.
It saves your infected tooth from extraction.
It is a cost-effective treatment.
It prevents the spread of infection.
It helps maintain oral health.
What does a root canal treatment look like?
Langham Dental performs root canal therapy as a technique to save a tooth. Below is a video that shows the step by step process involved in a root canal.
Please contact the office for more information.